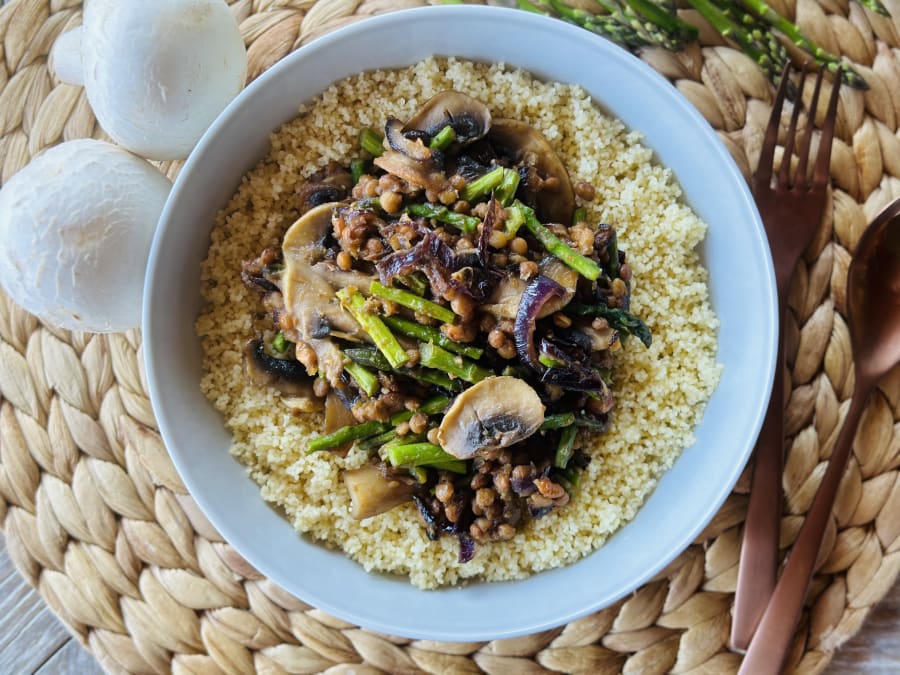 Couscous with Lentils and Asparagus
"Maximize your legume intake with easy and delicious dishes. Take a look at this tasty lentil recipe we've brought you today. It's the perfect way to start eating more plant-based proteins."
ingredients
9
Difficulty
Easy
Time
20'
Fresh ingredients

red onion

lemon

ginger

green asparagus

mushroom
Pantry ingredients

couscous

olive oil

soy sauce

canned lentil
Instructions
1
Prepare the ingredients the following way. Dice the garlic and cut the onion and asparagus into medium-sized pieces. Slice the mushrooms.
2
Add oil to a pan and lightly fry the garlic and onion for 3-4 minutes.
3
Add the sliced mushrooms and cook for 3 minutes on medium-low heat.
4
Next, add the diced asparagus and cook for 3 minutes.
5
Add the soy sauce and the lentils from their container. Mix the ingredients and leave on the heat for several more minutes.
6
Add a cup of water with a pinch of salt and a light drizzle of oil. Once it begins to boil add the couscous and turn off the heat and cover with a lid. Stir the couscous a bit with a spoon so that it hydrates evenly.
7
Place the couscous on a plate and then the lentils and vegetables on top.