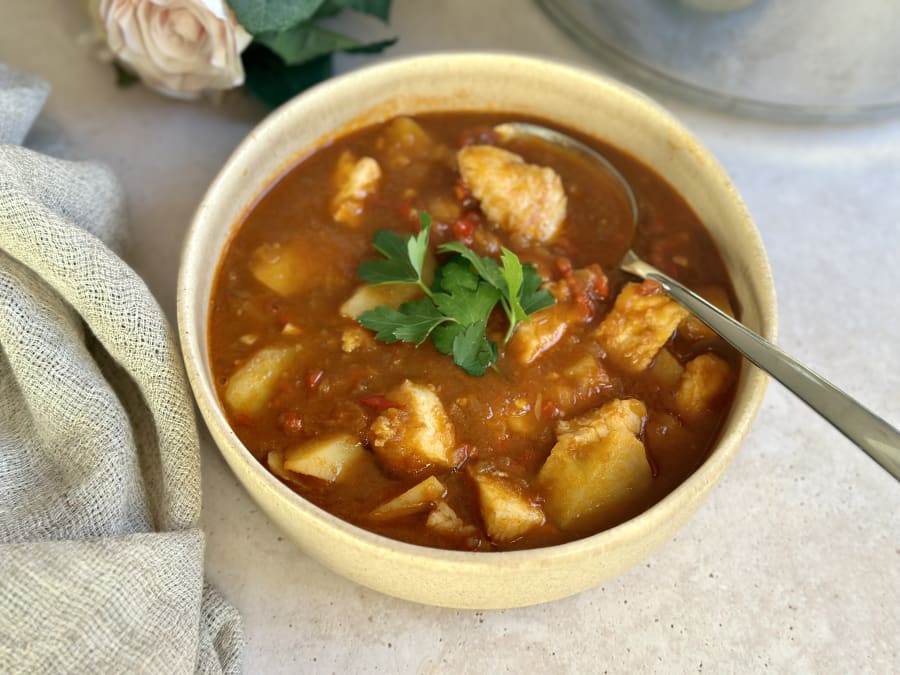 Potato and Hake Stew
"Do you think stews are hard to make? Maybe some are, but this potato and Hake stew are one of the easier recipes you're going to find."
ingredients
9
Difficulty
Easy
Time
45'
Fresh ingredients

onion

red bell pepper

carrot

tomato

hake

garlic
Pantry ingredients

potato

fish broth

salt
Instructions
1
Prepare the ingredients the following way. Dice the onion, garlic, and red bell peppers into small cubes. Peel the carrots and also dice into small cubes. Peel the potatoes and dice into medium size cubes. Lastly, grate a tomato and set aside.
2
Add olive oil to a pot. Once it's hot add the onion, garlic, bell pepper, and carrot. Cook the ingredients for 4-5 minutes.
3
Add the potatoes and mix using a wooden spoon.
4
Add the broth, grated tomato, and salt. Mix and lower the heat. Cook on medium-low for 20-25 minutes, until the potatoes are tender.
5
After this time, add the previously cut fish (into small cubes) and cook for 5-6 more minutes.
6
Serve in two bowls and finish it off by adding some parsley on top.
Tips & Tricks
In order for the dish to taste restaurant-worthy, you should use good quality fish broth.