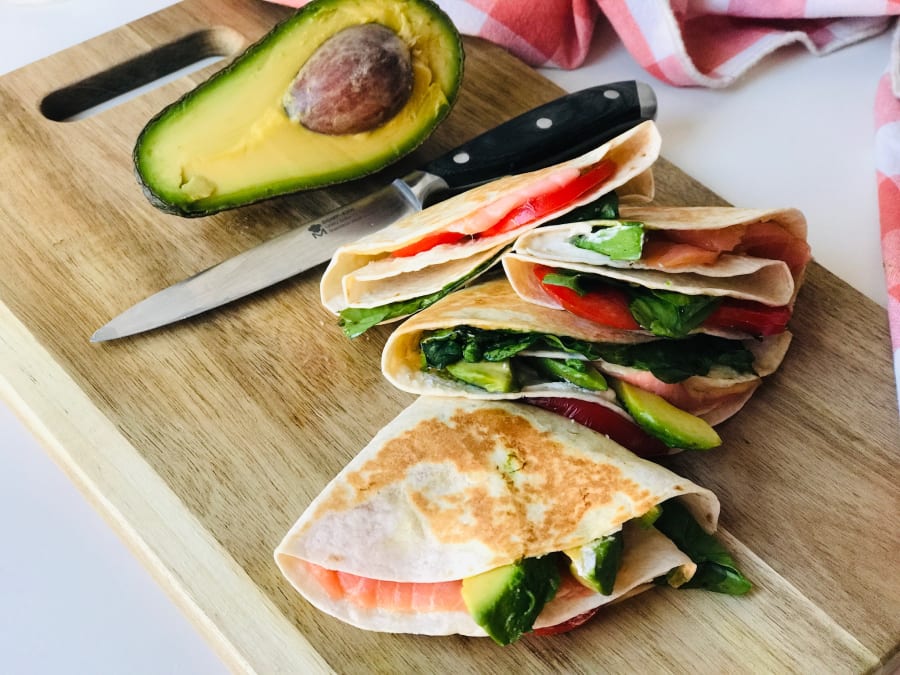 Salmon Quesadillas with Veggies
"Breakfast or lunch will be ready in 10 minutes! Will you save this smoked salmon, avocado, tomato, and spinach quesadilla recipe? Top notch ingredients are required for a fun, quick, and hassle-free meal. It's so fun to eat!"
ingredients
7
Difficulty
Easy
Time
10'
Fresh ingredients

avocado

tomato

hummus

smoked salmon

spinach

cream cheese
Pantry ingredients

flour tortilla
Instructions
1
Slice the avocado and tomato.
2
Wash the spinach and if they are too big, cut a bit.
3
Place the tortilla on a cutting board and use a knife to carefully, without cutting through, divide it into 4 equal parts.
4
Spread hummus on top half of the quesadilla and cream cheese on the other half.
5
Place the avocado slices on 1/4 of the tortilla, the tomato on another quarter, the smoked salmon on the third quarter, and finally, the spinach on the fourth quarter.
6
Fold the tortilla in half, taking care that the ingredients don't come out. Once folded, carefully fold again.
7
Put together the other quesadillas in this way.
Tips & Tricks
If you have small tomatoes you may need one and half tomatoes.
Once ready you can pass them through a pan or flat grill to crisp it up.