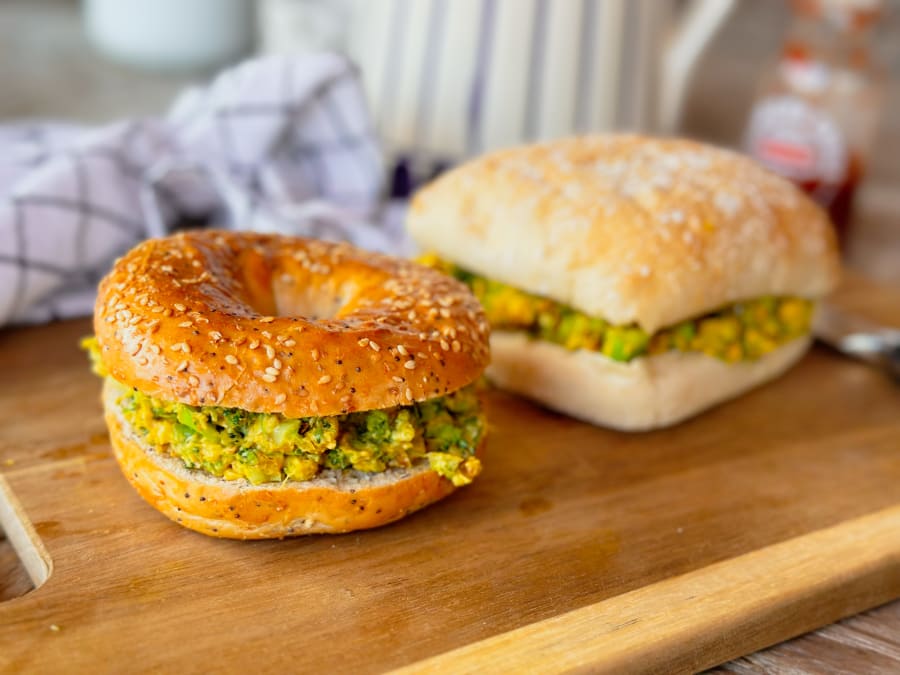 Super Tasty Garbanzo and Broccoli Sandwich
"Are you in the mood for a unique veggie sandwich? Look how incredibly delicious this sandwich looks and what amazing ingredients it has."
ingredients
12
Difficulty
Easy
Time
15'
Fresh ingredients

broccoli

onion

garlic

yellow bell pepper

yogurt
Pantry ingredients

sriracha sauce

olive oil

canned chickpea

bread

salt

curry powder

turmeric
Instructions
1
Dice the onion, garlic, bell pepper, and broccoli into cubes.
2
Drizzle some olive oil in a pan. Once hot, cook the vegetables for 5-6 minutes. Add salt.
3
Add the cooked vegetables to your food processor and give it a few pulses until the veggies are shredded but not yet a puree. Remove and clean the food processor cup.
4
Add the garbanzos, tahini, curry, and turmeric into the food processor. Give it a few pulses until the garbanzos are crumbled.
5
Use a spoon to mix the veggies with the garbanzos. Add a drizzle of hot sauce and the yogurt and mix.
6
Spread this mixture onto the bread and create your sandwich. Enjoy!