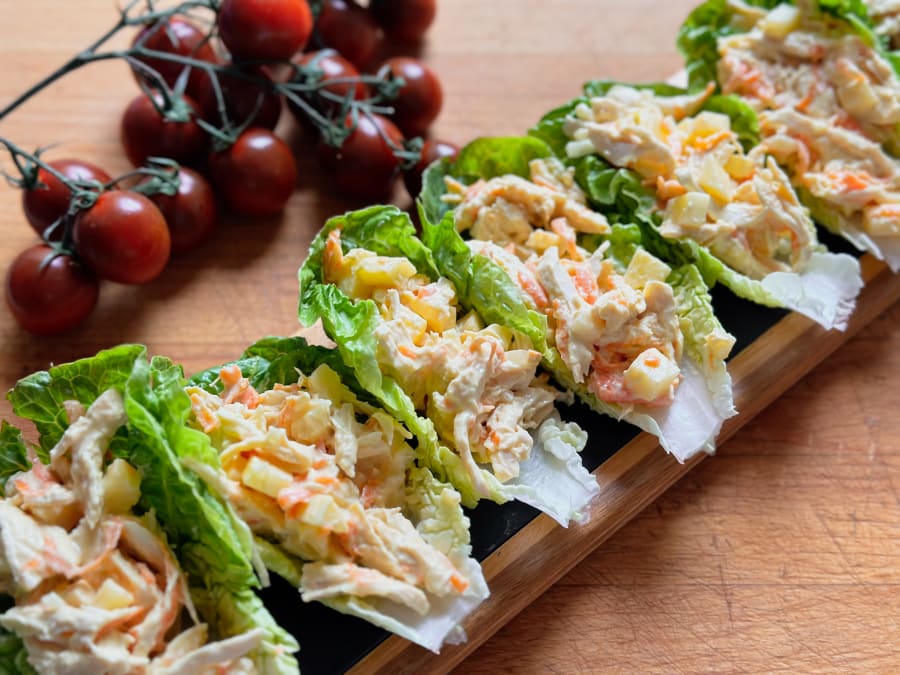 Chicken Salad Lettuce Wraps
"If you're constantly getting bored with eating grilled chicken, discover new ways to eat it. These chicken salad lettuce wraps are a unique way to enjoy the protein. Let's get started!"
ingredients
9
Difficulty
Easy
Time
30'
Fresh ingredients

chicken breast

carrot

apple

lettuce

yogurt

onion
Pantry ingredients

mustard

salt

black pepper
Instructions
1
Pour water into a pot and once it begins to boil, add some salt, and the chicken breast. Cook for approximately 20 minutes. After this time, remove the chicken, let it cool, and slice. Place the cooked and sliced chicken in the bowl.
2
Peel and grate a carrot. Finely dice an onion.
3
Add the grated carrot and diced onion to the bowl that contains the chicken.
4
Prepare the sauce in a separate bowl. Add the yogurt, mustard, and salt. Mix. Pour the sauce over the chicken and vegetables and mix again.
5
Add the diced apple and mix again.
6
Wash the lettuce and place some of the chicken filling into it. Repeat until you run out of filling.