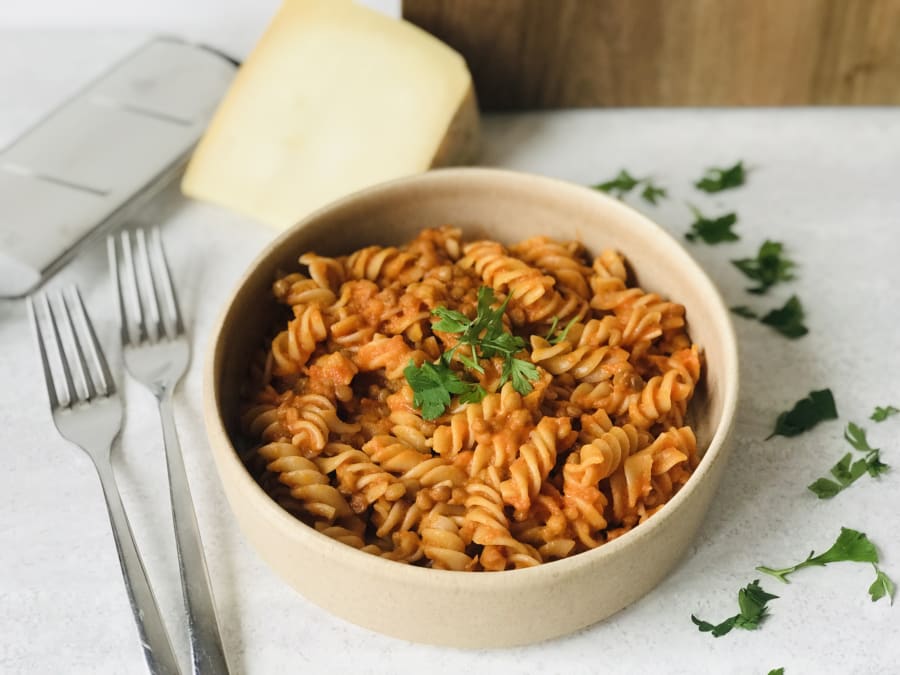 Lentil Sauce Macaroni
"If you want to increase your consumption of legumes, we've brought this recipe that is delicious and easy to make. The legumes you're looking for are in the sauce!"
ingredients
8
Difficulty
Easy
Time
20'
Fresh ingredients

red bell pepper

onion

carrot
Pantry ingredients

tomato sauce

pasta

canned lentil

salt

olive oil
Instructions
1
Cook the pasta in a pot with boiling water for the time indicated in the instructions. Once cooked, drain, and set aside.
2
Thinly slice the onion and red bell pepper. Peel and slice the carrot as well.
3
Add some olive oil to a pan. Once it's hot add the vegetables you have just cut. Add a pinch of salt and cook on medium heat for 6-8 minutes.
4
Add the tomato sauce and 3 tablespoons of water. Cook on low heat for 5 more minutes. After this time add everything to the blender and blend until you have a smooth sauce.
5
Pour the sauce back into the pan again and then add the cooked lentils. Mix and integrate. If you think the sauce is too thick you can add a drizzle of water and/or more tomato sauce.
6
Add the macaroni to the pan, mix with the sauce, and serve on two plates.