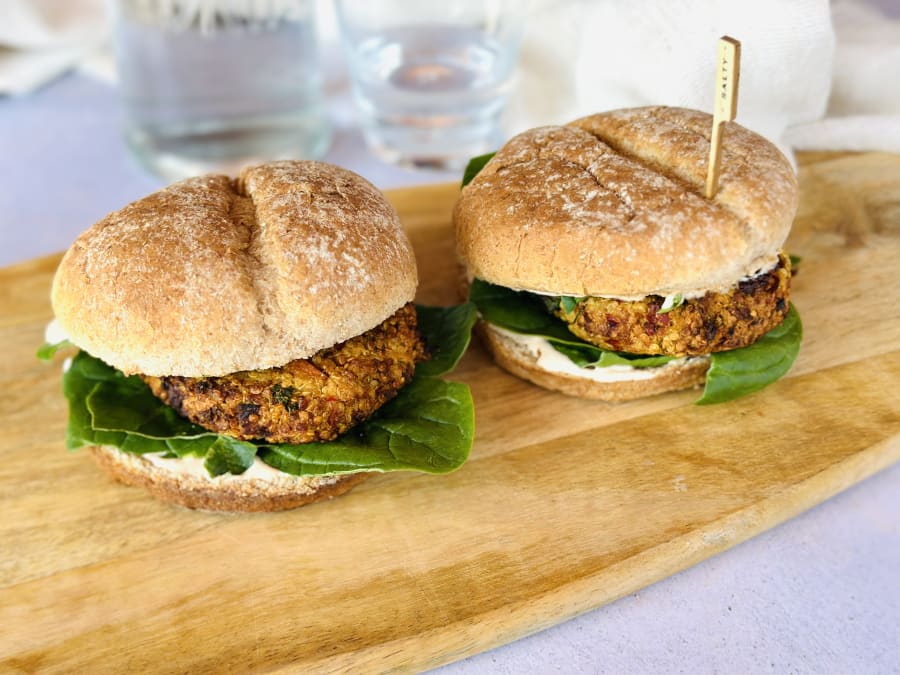 Vegetable Hamburger with Quinoa
"You can't even imagine how delicious these veggie hamburgers are when we cook them in the air fryer. It's a delicacy that is completely vegetarian that will leave you speechless."
ingredients
14
Difficulty
Easy
Time
30'
Fresh ingredients

red bell pepper

carrot

red onion

parsley

yogurt

spinach
Pantry ingredients
quinoa

water

salt

cumin powder

olive oil

bread

sriracha sauce

chickpea flour
Instructions
1
Chop the bell pepper and onion. Peel and shred the carrot.
2
Add some olive oil to a pan and cook on medium heat with the vegetables you have just cut, until tender. Remove and place in a deep bowl.
3
Add the cooked quinoa to this bowl, along with the chopped parsley, the spices, and then mix.
4
Add in the garbanzo flour and a drizzle of water. Mix until all of the ingredients integrate together. Use your hands to grab the mixture and make two large patties.
5
Place the patties on greased parchment paper and toss them in the air fryer. Cook with the oil on top at 350°F for 18 minutes.
6
While the patties are cooking, prepare the sauce. For this, mix the yogurt with the sriracha.
7
Open the bread and spread the sauce on the slices. Add the fresh spinach, and then the patties on top. Add more spinach. Close the hamburger with the other slice of bread.
8
Repeat these steps to make the second hamburger.