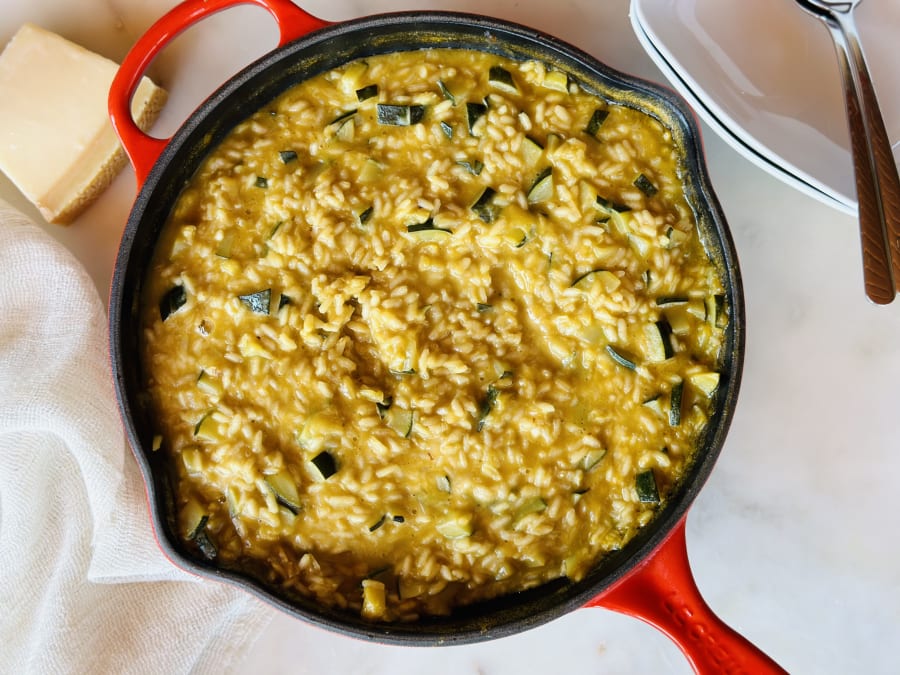 Zucchini Risotto
"This recipe is a basic recipe that you cannot miss out on. It's the perfect dish for dinner parties, or when you want to prepare something special. Enjoy!"
ingredients
7
Difficulty
Easy
Time
30'
Fresh ingredients

onion

zucchini

butter

parmesan cheese
Pantry ingredients

vegetable broth

white wine

rice
Instructions
1
Start by preparing the ingredients. Cut the butter into cubes. Finely dice the onion. Wash and finely dice the zucchini. Grate the parmesan cheese. Lastly, heat up the broth in the microwave or a pot.
2
Add about 1.5 ounces of butter to a large and deep pan. Once it melts, add the onion and cook on medium-low heat for about 8 minutes or until tender and transparent.
3
After this time add the zucchini and cook with the onion on medium heat for 5 minutes.
4
Next, add the rice and stir, cooking for 2 minutes with the vegetables.
5
Raise the heat and add the white wine and let the alcohol evaporate.
6
Add a ladleful of hot broth and stir with a wooden spoon until the rice absorbs the broth. Repeat these steps, slowly adding the broth until there is no more.
7
Cook the rice for 15 minutes and test the rice to see if it is al dente. If it still needs some time, cook for a few more minutes.
8
Once the rice is al dente, add the rest of the butter and mix.
9
Lastly, add the grated cheese and mix.
10
Let it stand for a few minutes so that the risotto keeps cooking. Serve immediately.
Tips & Tricks
In order for the risotto to be the best, use quality ingredients: a delicious vegetable broth, high quality parmesan cheese, either arborio or carnaroli rice (special rice for risotto). This recipe calls for very few ingredients, so it's best that they are of higher quality.|If you want to give it a special touch, add a bit of truffle to the rice and mix.|In this recipe we didn't add salt, but if the broth and cheese that you use are low in sodium, add a pinch. Taste and adjust accordingly to your taste.