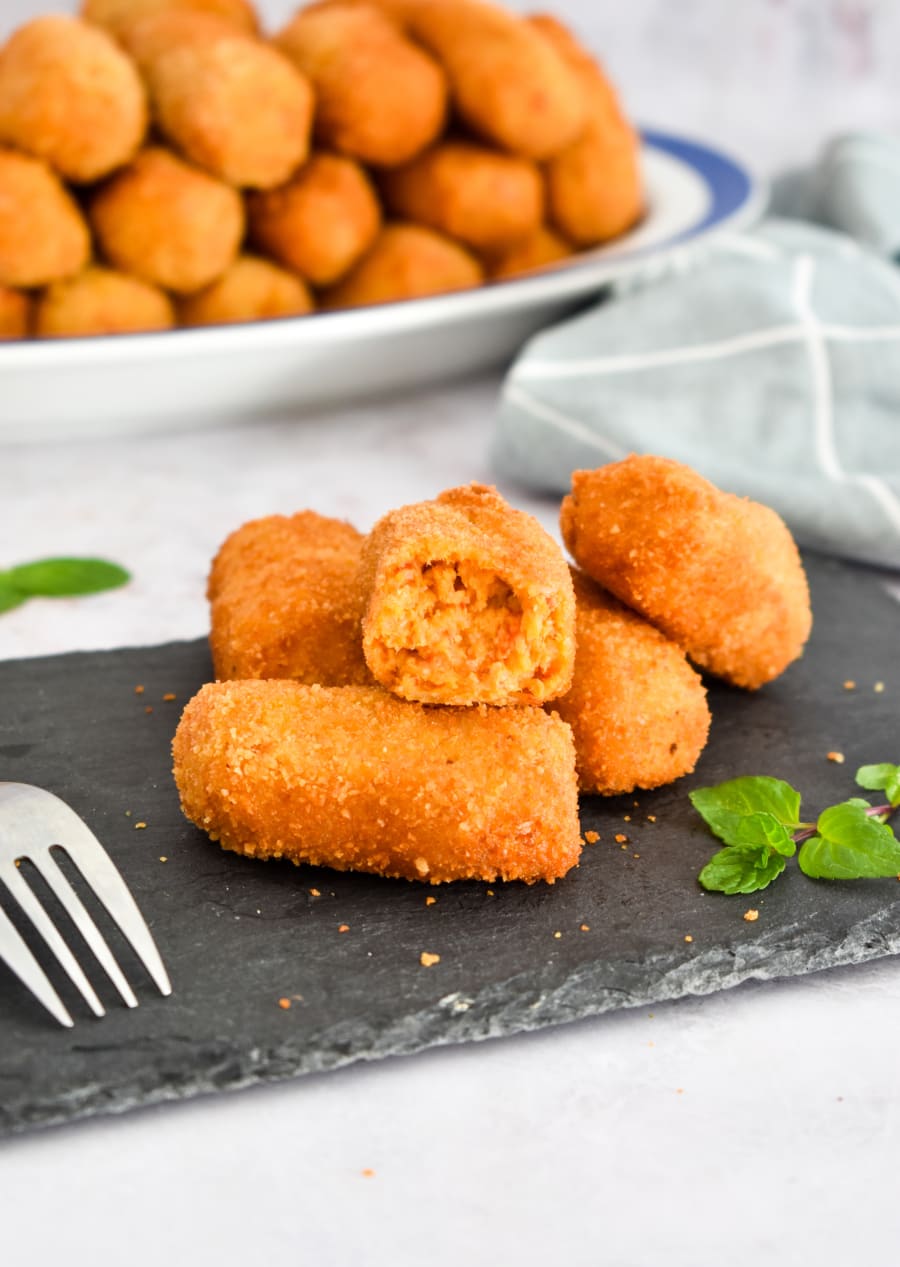 Cauliflower and Tuna Croquettes
"Who doesn't love a good croquette? Imagine enjoying them, in a new version where the béchamel sauce is substituted for cauliflower! Trust us when we tell you they are amazing."
ingredients
11
Difficulty
Easy
Time
40'
Fresh ingredients

garlic

red bell pepper

egg

onion

cauliflower
Pantry ingredients

canned tuna

salt

wheat flour

milk

breadcrumbs

olive oil
Instructions
1
Cut the cauliflower into florets and heat in the microwave for 15-20 minutes so they expel the water.
2
Chop the vegetables and cook for 10 minutes.
3
Add the tuna and cook for several minutes with the vegetables.
4
Crush the cauliflower, vegetables, salt, and milk in a food processor. Add more salt if necessary.
5
Transfer to a pan and add the flour. Cook for 10 minutes until the dough is thick and can be made into shapes (if it isn't ready, you can add more flour).
6
Transfer the dough to a bowl and cover with saran wrap. Refrigerate for 4 hours. After this time, remove the excess water, if there is any, and use a spoon to portion out the croquettes. Use your hands to give them shape.
7
Beat the eggs in a bowl and pour the breadcrumbs on a separate plate. Dip each croquette first in the egg, then the breadcrumbs. Do this with all the croquettes, then fry them until they are golden.
Tips & Tricks
These quantities are for about 20 croquettes, depending on the size.
You can use whole wheat flour to make them more nutritious and healthy.
If you would like you can add a bit of garlic powder and black pepper to the dough to give it more flavor.