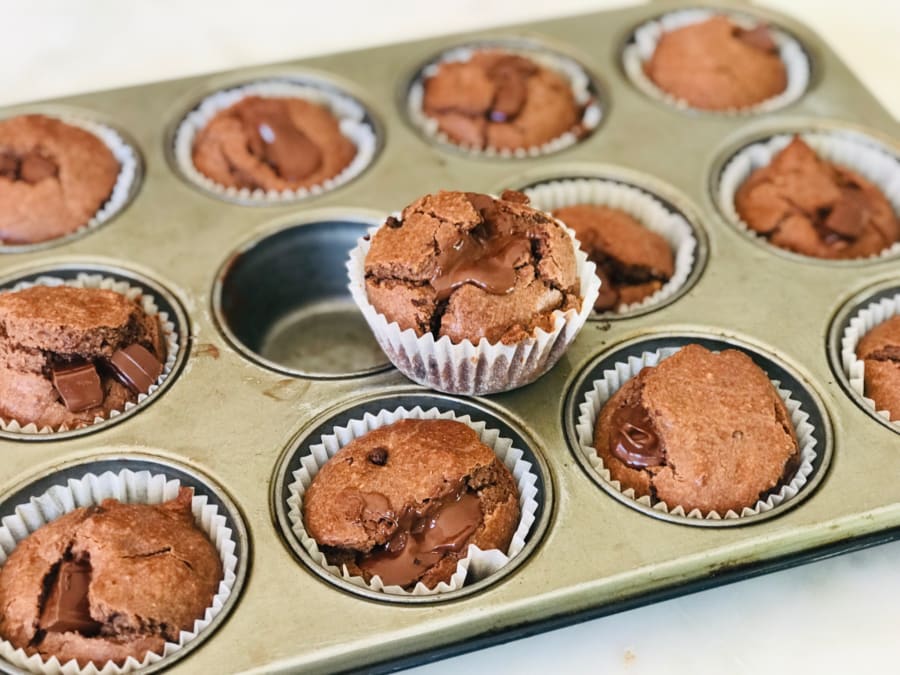 Double Chocolate Muffins
"Are you up for some double chocolate muffins? They look incredible, and they taste even better. Stop what you're doing and let's get started!"
ingredients
11
Difficulty
Easy
Time
30'
Fresh ingredients

egg

Greek yogurt
Pantry ingredients

olive oil

brown sugar

vanilla essence

cocoa

oat flour

almond meal

dark chocolate

milk chocolate

yeast
Instructions
1
Add the eggs and oil to a bowl and mix.
2
Add in the sugar, vanilla extract or essence, and the yogurt. Mix again.
3
Add the cocoa powder and mix.
4
Slowly mix in the flour by using a colander (to sift), and use a spatula to integrate the ingredients until there are no white spots left.
5
Add the almond flour and use the spatula again to mix.
6
Chop the chocolate and add to the batter (look at tips and tricks). Use the spatula to mix.
7
Fill two previously greased molds with the batter you've just prepared and bake at 350°F for 17 minutes.
8
After this time remove the muffins from the oven and place on a cooling rack to cool.
Tips & Tricks
If you would like, use half of the required chocolate indicated when you mix the batter and the other half when you remove the muffins from the oven. Make a small opening in the muffins and place the chocolate chunks inside. Since they are hot, the chocolate will melt instantly and give it a lava cake-like texture.